Team Studios Central (running team) has been rolling through the fall running season. Recently, some team members have participated in local races to stay in shape for that upcoming Disney race or to support a local charity.
On Saturday, November 3rd Team SC runner Shelly Benhoff raced in the Give Kids the World Gingerbread 5k at Give Kids the World Village in Kissimmee, Florida. Team Studios Central has been raising money for Give Kids the World since the team's inception back in the fall of 2010. To date we've raised $1,800 for the village. Shelley got a first-hand look at the village before, during, and after the race and said "This place is incredible!" One of the highlights of her visit was she was able to sing Happy Birthday to a terminally ill child. Shelley achieved a personal best in the Gingerbread 5k. All around a terrific accomplishment! Way to go Shelley!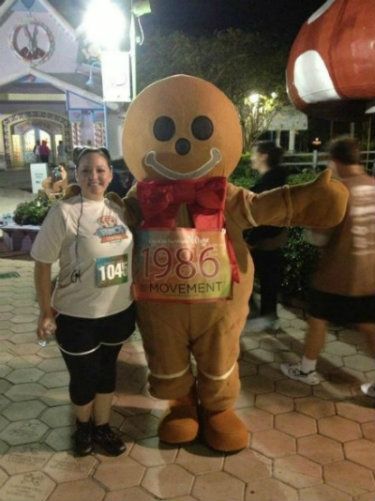 Shelley Benhoff poses with one of the many mascots at Give Kids the World Village during the Gingerbread 5k.
Another great accomplishment during the fall was Rich Gairing who completed his first ever marathon at the Hartford City Marathon. Rich said after the race "I'm on such an amazing high, nothing can bring me down!" He immediately followed it up with a finish at the Atlantic City half marathon. A race he signed-up for at the last minute. Rich will be tackling the Goofy Race and a Half Challenge this January at the Walt Disney World Resort. A combination of the half and full marathon races. Congratulations Rich!
Rich Gairing nears the finish line of his first ever marathon
On Saturday, November 3rd Chris Walthers and Aaron DelPrince completed half marathons in downtown Indianapolis at the Monumental Half Marathon. Both Chris and Aaron achieved personal best race results on a cold, wet day at a race that took them past several of the downtown Indianapolis landmarks and monuments. Both Chris and Aaron are looking forward to following this race up with an appearance and finish at the Walt Disney World half marathon this January. Way to go!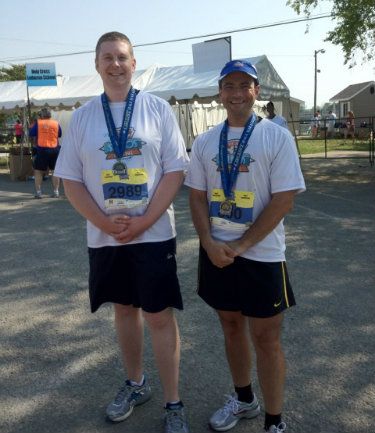 Chris and Aaron take a photo at the end of a recent half marathon
On Sunday, October 7th Team SC runner Amanda North completed her 5th ever half marathon at the Westchester Running Festival. She accomplished all of this the weekend after running in the Disney World Tower of Terror 10-Miler. If that wasn't enough she set a personal record at the Westchester Half Marathon. Amanda is preparing for the Goofy and a Half Challenge this January at the Walt Disney World resort which requires runners to complete the half marathon on Saturday and then the full marathon on Sunday. Congratulations Amanda and best of luck this January!
Amanda North takes a photo prior to her race at the Westchester Running Festival
Team Studios Central is open to anyone who wishes to run and make a difference in the community. If you would like to join our group you can find all the details here. Who knows, maybe you'll be our next success story. As I like to say "Each journey starts with a single step." Joining Team SC may be the first step you need to a long, successful running addiction.
Friend Aaron on Facebook: I accept reader friend requests.